Nyligen kom boken The Legitimacy of International Human Rights Regimes: Legal, Political and Philosophical Perspectives (Cambridge University Press, 2013) som jag redigerat tillsammans med Andreas Føllesdal och Geir Ulfstein. Boken tar sig an de internationella instrument och institutioner på människorättsområdet som växt fram på global och regional nivå sedan 1950-talet och analyserar de legitimitetsproblem som de allt mer tycks ge upphov till.
Några exempel:
SADC-Tribunalen är en domstol som överser samarbetet inom Sout-hern African Development Community. För några år sedan dömde Tribunalen regeringen i Zimbabwe att kompensera farmare för kon-fiskerad mark. Statsmännen i SADC svarade resolut på domen – inte genom att sätta press på Zimbabwe, utan genom att frånta tribunalen dess jurisdiktion över individuella rättigheter. "Vi har skapat ett monster som kommer att sluka oss alla" kommenterade Tanzanias president Jakaya Kikwete domen.
På andra sidan Atlanten har Inter-amerikanska domstolen för mänskliga rättigheter tagit upp ett antal fall av MR-kränkningar under Hugo Chavez' presidentskap. År 2012, innan Chavez dog, valde Venezuela att lämna den Amerikanska konventionen om de mänskliga rättigheterna "av värdighet, och vi anklagar dem inför världen för att vara olämpliga att kalla sig en MR-grupp."
I Storbritannien förklarade inrikesminister Theresa May nyligen att Storbritannien borde överväga att lämna Europakonventionen om de mänskliga rättigheterna. I juli 2013 fann Europadomstolen att Storbritanniens praxis att döma grova brottslingar till livstids fängelse – utan möjlighet att få domen prövad – är inhuman och bryter mot konventionens MR-bestämmelser. Domen följde bara dagar efter deporteringen av den terrormisstänkte islamisten Abu Qatada till Jordanien, som fördröjdes och försvårades i tio år genom en klagan till Europadomstolen.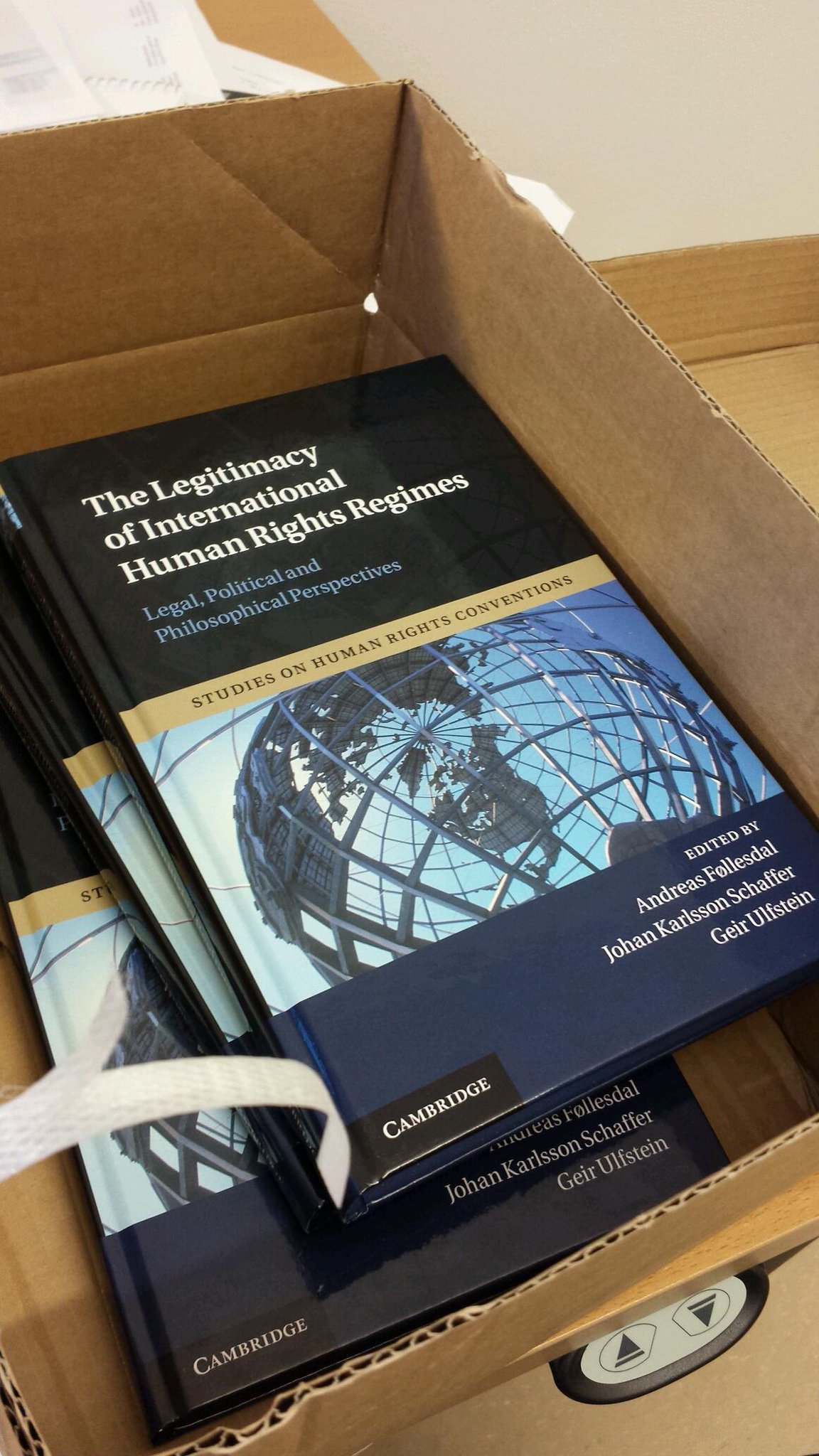 Boken angriper den sortens politiska motsättningar ur ett teoretiskt och huvudsakligen normativt perspektiv, med förankring i både rättsvetenskap, filosofi och politisk teori. Den innehåller bidrag från Richard Bellamy, Samantha Besson, Basak Çali, Lynn Dobson, Kristen Hessler, Ian Hurd och Steven Wheatley, samt oss tre redaktörer.
The past sixty years have seen an expansion of international human rights conventions and supervisory organs, not least in Europe. While these international legal instruments have enlarged their mandate, they have also faced opposition and criticism from political actors at the state level, even in well-functioning democracies. Against the backdrop of such contestations, this book brings together prominent scholars in law, political philosophy and international relations in order to address the legitimacy of international human rights regimes as a theoretically challenging and politically salient case of international authority. It provides a unique and thorough overview of the legitimacy problems involved in the global governance of human rights.